[New Product] 1940nm QCW Fiber Laser for Medical Applications
Small, air-cooled form factor with QCW power up to 650W.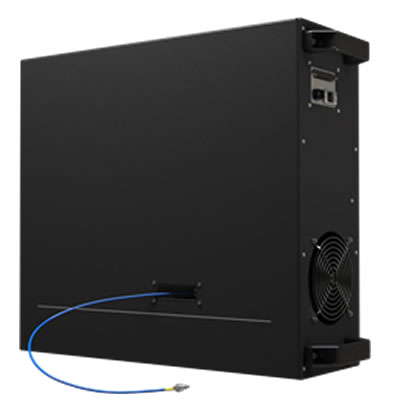 Our 1940nm series Continuous Wave (CW) and Quasi-Continuous Wave (QCW) fiber lasers deliver CW power up to 100 W and QCW pulsed power up to 625 W from a compact, air cooled, 48 V DC powered package. These highly reliable and energy efficient lasers operate at 1940nm wavelength and provides up to 7J of energy for your most demanding applications. Options include a high-power multi-mode output or a medium power single mode output, ideal for a diverse set of medical, industrial, scientific, aerospace and defense applications.
Features:
• 60W to 100W CW models provide power level and pulse energy options to support a range of applications.
• Customizable interface location and fiber length for ease of system integration.
• 625W of peak power & pulse widths as short as 50 us
• Equipped with air cooled package, eliminating need for a water chiller
QCW Fiber Laser Specifications:
Models

STN-TFL-60

STN-TFL-100

Optical Specifications

Central laser wavelength

1940nm± 10 nm

1940nm± 10 nm

Mode of Operation

CW / QCW

CW / QCW

Polarization

Random

Random

Maximum Peak Power

625 W

625 W

Maximum CW Power

60 W

60 W

Power Tunability

3 – 100%

3 – 100%

Modulation Frequency

≤ 10 kHz

≤ 10 kHz

Rise and Fall Times

≤ 10 μs

≤ 10 μs

Maximum Pulse Energy

7 J

7 J

Output Beam

Single mode, 22 μm MFD

Multi-mode, 75 μm core

Beam Quality

<1.3

<5

Electrical Specifications

Operating Voltage, DC

48 V

48 V

Control Interface

External hardware

External hardware

Mechanical Specifications

Dimensions

540 x 481 x 179 mm

540 x 481 x 179 mm

Optical Fiber

0.9 m, FC/A connector

0.9 m, FC/A connector

Cooling Method

Air

Air

Environmental Specifications

Operating Temperature

+15 to +30°C

+15 to +30°C

Storage Temperature

-10 to +60°C

-10 to +60°C

Relative Humidity

10 to 80%

10 to 80%
For more information on our lasers, please click here.