RTP crystal EO Cells

Our RTP (Rubidium Titanyl Phosphate) electro‐optic crystals can be used for a wide variety of applications in industrial, medical, and range-finding. The crystals are transparent from the visible to near infrared laser wavelengths. They can be used under low half-wave voltage for electro-optic cells, and can sustain large laser induced damage and low absorption losses. The performance is guaranteed and consistent over a wide temperature range (from ‐50ºC to +70ºC) and high repetition rates.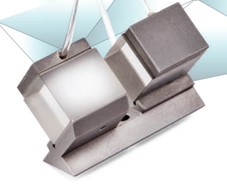 Advantage:
Low half-wave voltage

Short rise time, fall time and pulse width

High laser induced damage threshold

Non-hygroscopic, easy handling, no cover needed.

Low absorption losses at 1064nm

High homogeneity
Application of RTP Q-Switch in Laser range-finders: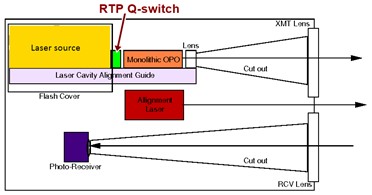 Technical Specifications:
| | |
| --- | --- |
| Category | Specification of RTP EO Cells |
| Operational range | 500-3000nm |
| Half-wave voltage | 3.6kV |
| Laser induced damaged threshold | 1GW/cm2 @ 1064nm |
| Clear aperture | 1.5x1.5 mm2 to 15x15mm2 |
| Crystal length | Up to 50mm |
| Transmission @1064nm | > 99% |
| Acceptance angle | < 4 degree |
Note: Other type of non-linear crystals are available. Contact us for any inquiries.
Other Applications of RTP EO cells:
Pulse pickers

Phase modulators

Amplitude modulators

Cavity dumpers

Shutters

Attenuators

Deflectors