[New Product] Single Frequency Lasers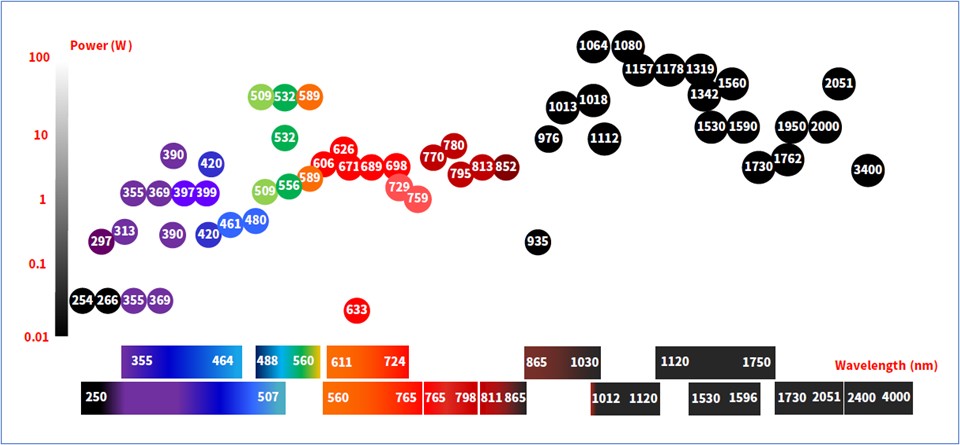 Product Range (Laser power vs laser wavelength)

KEY TECHNOLOGIES
High power narrow linewidth fiber amplifier
With excellent SBS and relative intensity noise suppression technology, fiber amplifier with up to 120 W power, excellent relative intensity noise and wide wavelength range covering (1010-2051nm) could be achieved.
Ultra-narrow linewidth DFB fiber laser
A distributed feedback fiber grating is written on a gain fiber to generate single frequency laser with ultra-narrow linewidth. The excellent long-term stability of the seed laser without mode hopping is achieved by utilizing unique packaging technology.
Frequency conversion with high power and efficiency
High efficiency frequency converted laser extend the wavelength coverage of fiber lasers to visible, ultra violet and even Mid-IR. The stable single pass frequency conversion and high power resonant frequency conversion make fiber laser based single frequency laser more suitable for various industrial application
High performance pulsed fiber laser
With knowledge in nonlinear fiber optics, highly reliable ultrafast fiber lasers are developed. With high speed electrical technology, stable nanosecond laser at IR, visible and UV could be supplied.
TYPICAL APPLICATIONS
Ultra-Narrow linewidth fiber DFB laser: seed source for high power laser, beam combination, laser radar etc.

High power single frequency fiber laser: optical lattice, quantum precision measurement, atom cooling etc.

High efficiency frequency conversion laser: narrow linewidth visible light for quantum application, ultraviolet laser for semiconductor inspection, Mid-IR laser for gas sensing etc.

High performance pulsed fiber laser: ultrafast laser precision machining, optical imaging, seed frequency comb, THz etc.
We have single frequency seed fiber lasers, amplified lasers, frequency-converted lasers and specified lasers to be described as follows.
Please click here for more information.