Multi-focal Diffractive Optical Element (DOE) allows to focus a single incident beam simultaneously at several focal planes along the propagation axis.
We have a vast variety of solutions for multiple foci along the optical axis:
The Multifocal Diffractive Optical Elements (DOE's) allow a single incident beam to focus simultaneously at several focal lengths along the propagation axis.
From a collimated input beam (single mode or multi-mode), the output beams focussed at a fixed number of focal lengths, predetermined during the design of the Multifocal DOE based on the customer's system requirements.
The Multifocal DOE comes in two configurations:
A DOE consisting of a Plano-convex lens with predetermined focal length, and a diffractive pattern, etched on its Plano side.
For more flexibility, a window DOE, thus, to get the foci spots at certain distances, the user adds a regular focusing lens after the DOE. The lens focal length determines the working distance (WD).
The Multifocal DOE can also be used as quasi elongated focus elements, increasing effectively the depth of focus in applications such as laser glass cutting and laser micro machining.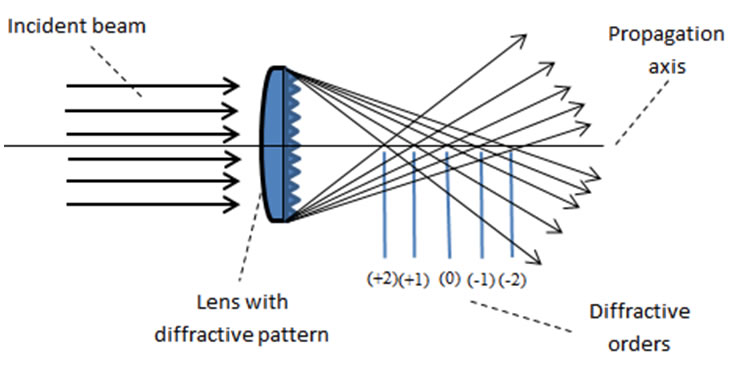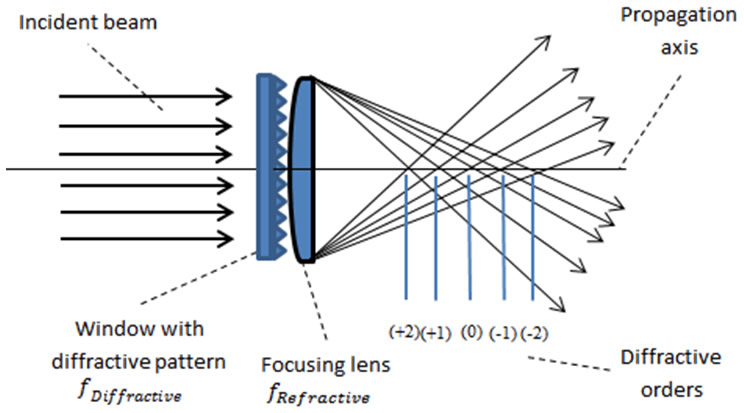 | | | | | | |
| --- | --- | --- | --- | --- | --- |
| PN | λ[nm] | Number of Foci | Element Size [mm] | Average separation between foci [um] | Remarks |
| BF-005-I-Y-A | 1064 | 2 | 25.4 | 598 | |
| MF-001-I-Y-A | 1064 | 5 | 15 | 112.8 | |
| MF-002-I-Y-A | 1064 | 7 | 25.4 | 95.3 | |
| MF-005-I-Y-A | 1064 | 4 | 11 | 549 | |
| MF-006-I-Y-A | 1064 | 15 | 11 | 610.4 | |
| MF-007-I-Y-A | 1064 | 5 | 11 | 146.6 | High Efficiency |
| BF-006-I-Y-A | 1064 | 2 | 11 | 1995 | |
| BF-014-I-Y-A | 1064 | 2 | 11 | 301 | |
| BF-015-I-Y-A | 1064 | 2 | 25.4 | 31 | |
| TF-008-I-Y-A | 1064 | 3 | 11 | 535.7 | |
| MF-003-I-Y-A | 1064 | 9 | 15 | 68.5 | |
| MF-004-I-Y-A | 1064 | 11 | 25.4 | 121.3 | |
| TF-004-I-Y-A | 1064 | 3 | 11 | 150.5 | |
| TF-005-I-Y-A | 1064 | 3 | 25.4 | 15.5 | |
| TF-010-I-Y-A | 1064 | 3 | 11 | 667.4 | |
| TF-011-I-Y-A | 1064 | 3 | 11 | 414.7 | |
| MF-009-I-Y-A | 1064 | 6 | 15 | 94.5 | |
| MF-011-I-Y-A | 1064 | 5 | 11 | 238.1 | orders 0,-1,-2,-3,-4 |
| MF-012-I-Y-A | 1064 | 15 | 25.4 | 125.6 | |
| MF-013-I-Y-A | 1064 | 5 | 11 | 192.3 | |
| TF-012-I-Y-A | 1064 | 3 | 11 | 226 | |
| BF-021-I-Y-A | 1064 | 2 | 38.1 | 5429.9 | |
| BF-016-I-Y-A | 1064 | 2 | 25.4 | 13.3 | |
| BF-008-I-Y-A | 1064 | 2 | 11 | 1071.5 | |
| BF-017-I-Y-A | 1064 | 2 | 11 | 1334.8 | |
| BF-018-I-Y-A | 1064 | 2 | 11 | 829.4 | |
| BF-019-I-Y-A | 1064 | 2 | 11 | 452 | |
| TF-003-I-Y-A | 1064 | 3 | 25.4 | 299 | |
| TF-009-I-Y-A | 1064 | 3 | 11 | 997.5 | |
| BF-020-I-Y-A | 1064 | 2 | 11 | 1602.6 | |
| MF-008-I-Y-A | 1064 | 5 | 15 | 112.8 | High Efficiency |